PPGI Pre Painted Galvanised Steel Roofing Sheets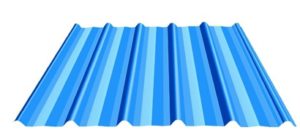 PPGI Pre Painted Galvanised Steel Roofing Sheets
Pre Painted Galvanised Steel roofing sheets, Durakolor, manufactured by Exodus Ispat at our state of the art plant in West Bengal. We have developed this product after a lot of research work and it is characterised by:
– High Strength Base Steel
– Special Pre-treatment for longer life and paint coating
– Light Weight Coating Galvalume 55% Aluminium Zinc Alloy
– Option of Various Colours / Finishes
– Highly effective in withstanding extreme weather conditions
The product is made of high tensile / strength steel, which after special pre-treatment is coated with Zinc (100%) which has sacrificial properties. After this the product is coated on both the surfaces by primer and paint for superior finish and long life. Various types of paint coating are used under to suit varied industrial requirement .
Types of Paint :
VXP – Vibrant Exterior Polyester

RMP – Regular Modified Polyester
SMP – Silicon Modified Polyester
SDP – Super Durable Polester
PVDF – Poly Vinyldene Flouride
Durakolor Roof
Durakolor Tile
Durakolor 32 / 195
Durakolor Corrugated
Durakolor Round Rib
Durakolor Shakti Plus
Other Related Products:
Durakolor Deck Sheet
Durakolor Z Purlin
Duravent
Durakolor Insulated Roofing Sheet