Technology
It is the technology developed exclusively by Exodus Ispat which comprehensively includes the following aspects of colour coated roofing sheets:-
1. Quality of Product
2. Profile Design of Product
3. Fixing of Product
4. Handling of Product
Quality of Colour Coated Roofing Sheet
It is primarily determined by the raw material used in it. In Durakolor pre painted roofing sheet there are 8-9 layers of protection around the base steel below and above taken together. Other than this the different level of quality checks our product passes through ensures that the customer gets the best in the industry.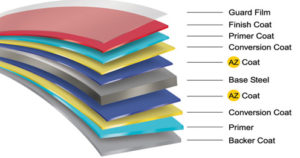 Profile Design of Colour Coated Roofing Sheets
The design of the roofing sheet plays a major role in its durability. Apart from being aesthetically appealing the colour coated roofing panel should also have the requisite load bearing capacity – which is fulfilled by all the profiles of Durakolor- Moreover the Durakolor Profiles are characterized by the following exclusive features:
Durakolor Anti Capillary Groove –Durakolor Roof and Tile Profile has been designed with special Anti Capillary Groove, which forms an air tube in the side lap of the sheet, thus resisting water seepage even in torrential rains.

Durakolor Valley Discharge Feature –Durakolor Roof / Trapezoidal Profile has been designed with special Valley Discharge Feature which allows water to percolate towards the crest and drain downwards smoothly and faster.

Durakolor Interlocking Feature –Durakolor Tile Profile is designed such that it requires interlocking in vertical overlap which ensures that material are fixed in straight lines – thus ensuring that there is no chance of any leakages.
Fixing of Colour Coated Roofing Sheet
In Colour Coated Galvalume Steel Roofing (PPGL), the use of best quality material alone will not ensure the maximum life for the product. That is why we have developed a unique standard for fixing of the Durakolor colour coated roofing sheets by using Z Purlin, SDST Screws, Mastic Tapes etc
Handling of Colour Coated Roofing Sheet
One of the major problem faced by this product is development of scratch while in transit due to multiple handling. Technical experts at Exodus in order to address to this issue have pioneered the usage of Durakolor Guard films on the roofing sheet which effectively protects the material against any minor abrasion. Apart from this the product is dispatched and handled in packet form – which has multi layer protection as a standard feature.
* Terms & Conditions Apply