Tata Bluescope Roofing Sheet- Colorbond Zincalume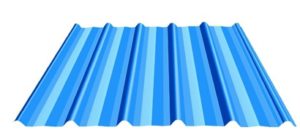 We supply roofing sheet made from Colorbond and Zincalume steel coil manufactured by Tata Bluescope Steel Ltd. The pre painted  Colorbond coils and Zincalume 55% Al-Zn Alloy Coated coils are manufactured in the state of the art factory of Tata Bluescope Steel Ltd in Jamshedpur, and the profiling is done at our factory in Bishnupur Bankura. We supply this product exclusively to Projects. The Product has been developed by Tata Bluescope Steel for project use and hence lasts longer in Industrial atmosphere.
Note Colorbond and Zincalume are brands owned by Tata Bluescope Steel Ltd.
This product is characterized by
High Strength Base Steel G550 mpa
Superior Paint Technology
Thermal Efficiency
Design Flexibility
Superior Paint Adhesion
Durability- 150 gsm coating of 55% Al-Zn alloy
Environment Friendly – Lead Free
The feed material is manufactured out of High tensile Base Metal with min 550 Mpa Yield strength, metallic hot dip coated with Al-Zn alloy (55% Aluminium, 43.5% Zinc, 1.5% Si ) as per AS 1397 / IS15961 – Zincalume AZ150 (Min. 150 gms/sq.mt total on both sides) with Super Durable Polyester colorbond steel XRW quality paint system of apporved color suitable for exterior application conforming to AS 1397: 2001/ IS15961 for metallic coating & AS/NZS 2728: 2007 type-4 / IS15965 for pre-painted Al-Zn alloy coated steel Tata BlueScope Steel make. The sheet colour shall have a total coating thickness of 35 microns, Super durable polyester Colorbond XRW quality paint system as per AS/NZS-2728: 2007/ IS15965  (Type 4), comprising of 20 microns exterior Super Durable Polyester coat on top surface and 5 micron reverse polyester coat on back surface over 5 micron primer coat on both surfaces. The paint system shall have inorganic pigments for color durability. The steel sheet shall have brand marking (product details, date , mfg name, etc) on back side at regular interaval confirming genuinity of the material.
The Product is available in various profiles.We supply this in various profiles one of best selling profile is Durakolor Roof having crest height of 28.5 mm , 203 mm Pitch Distance , Overall width of 1072 mm and effective width of 1015 mm.
Durakolor Roof
Durakolor Tile
Durakolor 32 / 195
Durakolor Corrugated
Durakolor Round Rib
Durakolor Shakti Plus
Other Related Products:
Durakolor Deck Sheet
Durakolor Z Purlin
Duravent
Durakolor Insulated Roofing Sheet